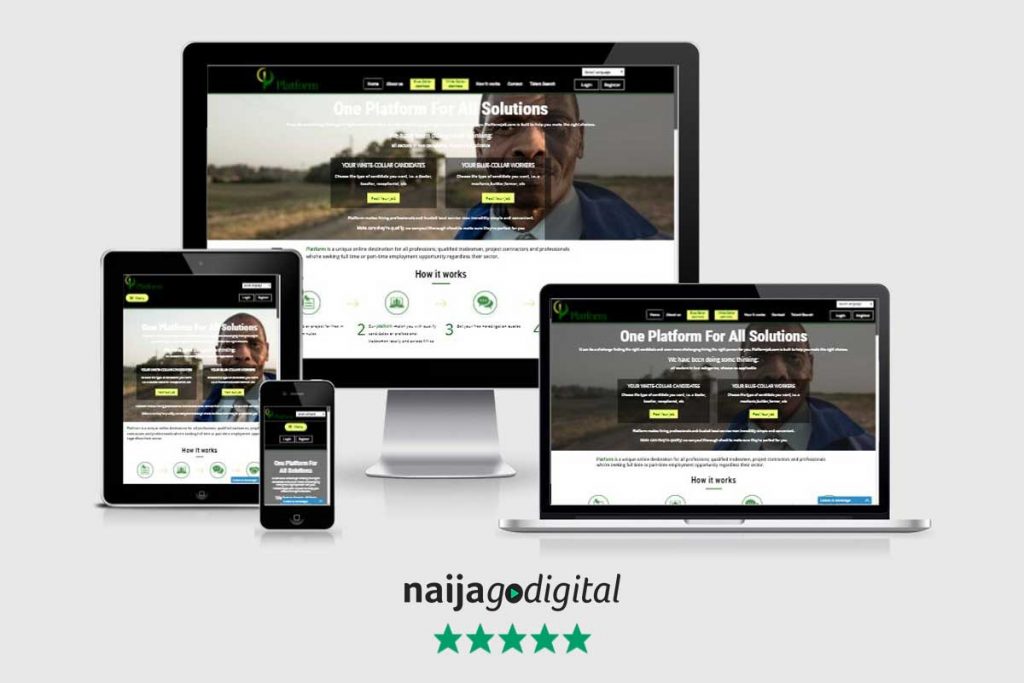 Website Review: PLATFORM Africa – platformjob.com
Unless you've been living in a sealed-off cave for the last few decades or are just arriving from the alien planet that's rumoured to be a stone throw away from this galaxy, you must have heard of the likes of Freelancer and Fiverr. These and a multitude of others like them do great work in effortlessly connecting potential employers and employees, exposing their users to an all-new world that's positively overloaded with opportunities and generally making this money-oiled planet roll, jiggle and move much more smoothly for the aware. The two just-mentioned titans have been around long enough to show how profitable and influential their business model is. Thus, new businesses modeled on them spring up nearly daily and attempt to do what they do in an all-new and hopefully improved manner.
One of these is Platformjob.com. Unlike most others, their focus is on the African continent rather than global or inter-planetary and their mission is to apparently make themselves indispensable in the employment and networking sector. They've also taken a few worthwhile practices of the top firms in the trade and improved on them in order to render better and more efficient services. But are they really worth checking out? Well, join us as we consult the oracle to find out.
The Platformjob.com website is overall professionally designed. Pages normally load fast and fluidly and the featured images and texts are definitely eye-catching and easy to read/grasp. As well, navigating is breezy and quite intuitive. Still, while the website design is overall good, it doesn't really have much of a 'wow' factor that might enable it to better worm its way into users' consciousness and have a good grasp on their fickle affection.
With the great multiplicity of languages being spoken on the African continent and beyond, it was quite refreshing to notice that there are options to select from a long list of the most popular ones. This will definitely go a long way to enhance user experience and satisfaction. There are also videos aplenty on the site to help show you how things are done and how to benefit the most. Accessing the featured content is generally painless, and if you are a new user there are more than enough signs to guide you around and help you make the most of everything. And yes, the site is really accessible to all categories of people (tradesmen, skilled professional, white-collar and blue-collar workers) and companies, on a wide variety of platforms. Though mobile users might experience the odd slowdown.
To enjoy the goodies the site has to offer you really must sign up. Signing up is easy as eating pie too, though you need to keep your government ID handy, as you'll need it. Signing up is not free, as there's the little matter of $8 to be paid before you're fully a member. This will cover for all the administrative work to ensure only trusted and vetted professional workers are available for hire on the website. But once the application gets approved and verified, you can now get access to whatever suitable jobs or projects are in your local area. Additionally, the site comes equipped with SSL certificates which ensure that all your personal details and encrypted and safe. That is to say, it's nearly as secure as Fort Knox.
At the bottom of the page can be found the social media links. These include six of the most popular ones right now and are quite pertinent. It might be just me, but the Platformjob website does seem kind of like a big bosom lady wearing a too-tight dress. That is to say, it comes packed with possibly too many details which address every user's need. Images could also be used more for better effect, to pass across the messages visually.
Overall though the Platformjob site largely delivers and I believe will deliver the perfect African platform for all categories of potential workers and employers to interact with each other and make their mark in an ever-changing world.
Technical Review of Platformjob.com
Search Engine Optimization (SEO) Score - 82%
Join our list
Subscribe to our mailing list and get interesting stuff and updates to your email inbox.