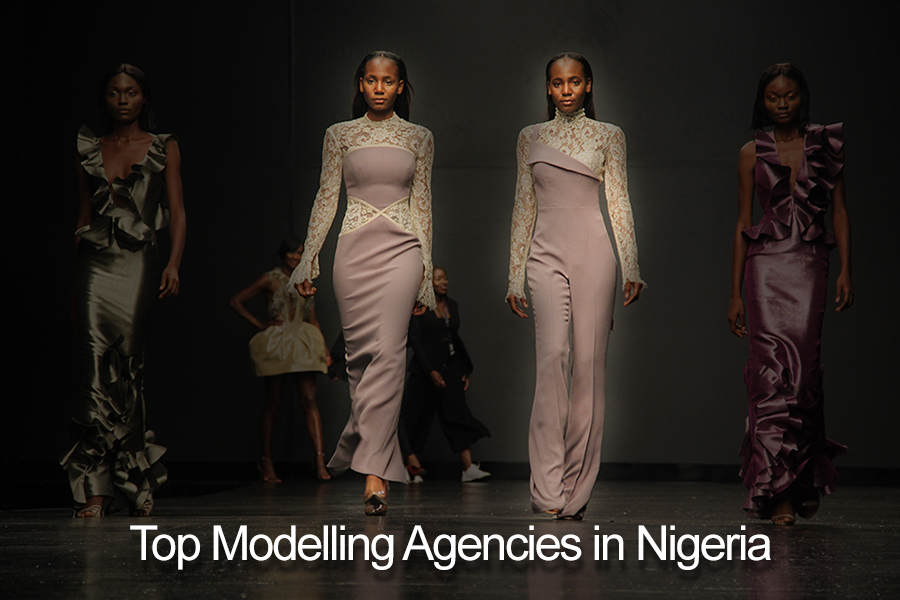 Top 6 Best Modelling Agencies In Nigeria For Models (2020)
Are you looking to become a model in Nigeria? Here is a post on the best modelling agencies in Nigeria that can offer you the opportunity to become a successful supermodel.
The Nigerian modelling industry is one of the country's few success stories. It has helped put Nigeria on the world map, which is by no means a small feat. The Nigerian modelling industry has also provided an avenue for showcasing our incredibly rich culture to a receptive global audience and enabled the creation of a platform for displaying the untold talents of our models to Africa and the rest of the world. One such very talented model is the sublimely sexy and beautiful Agbani Darego; the lady with the long legs and high cheekbones! Other notable Nigerian models include Mayowa Nicholas, Elizabeth Ayodele, Ruth Akerele, Uju Marshall, Seun Logan, Victor Ndigwe, and David Obenebo.
There are lots of modelling agencies in Nigeria, most of which are not worth being called by that name. A few, however, are top-class. These are totally serious about what they do and determined to move mountains in order to give their models the best possible exposure.
Top 6 Best Modelling Agencies In Nigeria (2020)
The top 6 modelling agencies in Nigeria are listed below and are surely worth the read. Here are the 6 best modelling agencies in Nigeria that drive the direction of the Nigerian modelling industry, while boasting some of the most amazing models on the globe:
1. Box Models Agency
Box Models Agency is still relatively new and already making waves. It is, however, desperate to prove its mettle and has been busy showing off its very considerable muscles and its intent to compete with the best modelling agencies on this green earth. It has a really slick website which caught all our attention, and they represent lots of models of both sexes and is based in Lagos, the commercial capital of Nigeria. This top modelling agency in Nigeria provides a wide range of services, is very active on the social media scene and seems intent on thoroughly shaking up the Nigerian modelling industry and carving a new path that other agencies can't help but follow! From my research, Box Models Agency is part of Elite Studio Nigeria who dominates Google search engine for everything modelling and photography in Nigeria. Give it up for Box Models Agency!
Previous Position in 2019: 1st | Current Position in 2020: 1st
2. Few Models
Only a few can compete with Few Models, which is headed by a rather delectable lady by the name of Omobolajo Fawehinmi. She happens to be both an accountant and a model. The company was founded in 2015 and in that short time has been featured in many well-respected media like Forbes and Vogue, while its models have dominated the industry, making large portions of the Nigerian modelling space theirs. Few Models touts itself as the fastest-growing modelling agency on the African continent and they well might be right. It evens runs an academy where aspiring models are taught all they need to know to make it on a massive scale! Overall, Few Models rock!
Previous Position in 2019: 3rd | Current Position in 2020: 2nd

3. Beth Modelling Agency
Beth Modelling Agency oozes class, style and elegance! It prides itself as the Number 1 modelling agency on the continent and believes in offering a platform for models to compete on the global stage. It has strong partnerships with other agencies in a host of European and North American countries and believes in nurturing the raw talents of today into the polished superstars of tomorrow. The Beth Modelling Agency was established in 2014 by an ex-model by the name of Elizabeth Isiorho. It has been successful in launching the careers of an impressive array of famous Nigerian models, and has a rather impressive portfolio and is a heavyweight in an industry that is flooded with lightweights!
Previous Position in 2019: 2nd | Current Position in 2020: 3rd

4. ISIS Models Africa
ISIS Models Africa was founded in 2008 by Joan Okorodudu, a Boston University Alumnus. ISIS Models Africa resolutely seeks to put Africa and African models on the map. Its models are some of the most sought after and it's a widely respected pioneer in the African modelling industry. The agency hosts yearly Nigeria's Next Super Model contest, which has led to the discovery of an amazing array of talents. Overall, ISIS Modelling Agency is an undisputed leader in the sector and a modelling agency to beat!
Previous Position in 2019: 5th | Current Position in 2020: 4th

5. 202 Modelling Agency
202 Modelling Agency is an agency for all seasons! It accepts models of all types and sex, primarily because it has a very diverse client base. Talking of models, the 202 Modelling Agency grooms and trains them so well that they could walk on air if need be! And that is just why it is on this list!

ankara escort
çankaya escort
ankara escort
çankaya escort
escort ankara
çankaya escort
escort bayan çankaya
istanbul rus escort
eryaman escort
escort bayan ankara
ankara escort
kızılay escort
istanbul escort
ankara escort
ankara rus escort
escort çankaya
ankara escort bayan
istanbul rus Escort
atasehir Escort
beylikduzu Escort

Previous Position in 2019: 6th | Current Position in 2020: 5th

6. Yray Models
Yray Models is mostly Nigerian-focused. It is a well-regarded Nigerian modelling agency that has stood the test of time and emerged triumphantly! Its models are of all ages and types and are well-trained and versatile. They are also really easy on the eyes and know how to smile like they just won the lottery! Although, I am not a fan of their reddish website which in my opinion lacks the level of branding the top 3 modelling agencies above boast of.
Previous Position in 2019: 4th | Current Position in 2020: 6th

Do let us have your thoughts on any of these modelling agencies listed here. Do you know any other modelling agencies in Nigeria worth a mention? Feel free to comment below.
Join our list
Subscribe to our mailing list and get interesting stuff and updates to your email inbox.