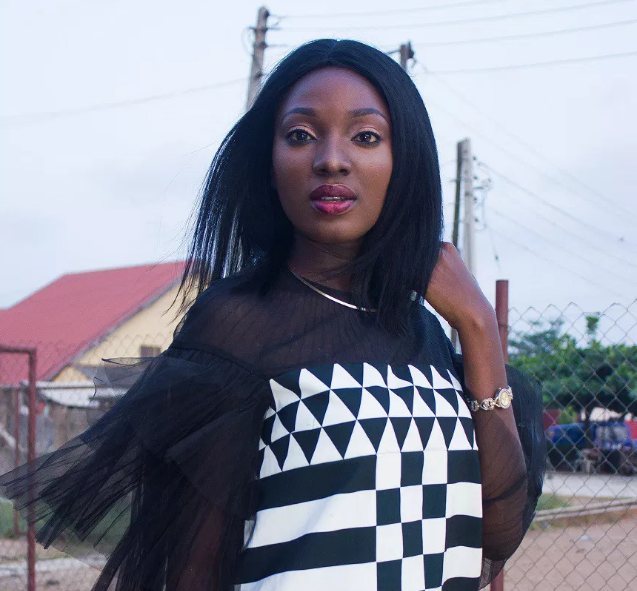 Meet the Young Nigerian Blogger Making Fashion Moves
She believes you don't have to spend a million bucks to look like a million bucks, and that is why she has resorted to creating affordable styles for the average Nigerian woman that desires to look good.
For a graduate of mass communication,  Wumi Oguntuase is sure making moves in the world of fashion. This Jane of all trades has many abilities, one of which is influencing one's style through her style blog. With African fabrics, she can create awesome styles in different prints. Have you stumbled on her latest invention just yet? An Ankara Pinafore skirt, and don't even talk about her obsession with denim.
In this interview with NaijaGoDigital, the style blogger and fashion guru shared her story of how she built her blog from scratch.
Who is Wumi 'Tuase?
I'd like to believe Wumi 'Tuase is a ''growing'' woman who believes so much in staying true to herself and being the best possible version of herself. I am basically a Jane of All Trades learning to be master of all (I say this all the time). I am a Style blogger, Personal Stylist, Fashion Entrepreneur, Model, Customer Service Officer etc. LOL. Wumi 'Tuase is an average Nigerian girl determined to make the most out of what life gives her and ensure her loved ones are proud of the woman she becomes.
Briefly tell us about your blog?
The Average Nigerian Girl Blog is my style diary where I share my passion for affordable fashion and perspective of life. I'd like to think it inspires people to dress according to their budget and shows the many ways to maximise outfits stylishly. Also, point them to affordable African brands that make fabulous pieces.
What inspired you to start your blog?
I realised that a lot of people want to live the life while going over their budget. I started it as a way to show fashionistas that they don't have to go broke to be stylish. An average Nigerian girl most likely would not have N100,000 to spend on a pair of shoe, but you can also look chic with less. So projecting Fashion on a Budget was my main drive to starting my blog.
How would you describe your blogging style?
My blogging style is very chilled and engaging. I blog like I'm ''gisting'' with my friends because I consider my readers as my friends. I like them to be able to relate to my experiences and style, so I make my posts simple and fun to read.
How do you manage time to run your blog efficiently?
I don't even think I manage the blog well because I'm not doing as much as I want to. My consistency on the blog is shaky, and that is because I have to combine it with a lot of things. One thing that helps though is scheduling my posts ahead of time. With this, I know if I'm missing a deadline & have a guide to keep me posting. My Cassie Daves blog planner helps me do that.
How often do you communicate with your followers?
I reply almost every comment on my blog posts and pictures. I drop my email, and social media pages are open so they can reach me anytime and I am always happy to chat with them. I have quite some followers that I've met physically and have proceeded to become friends with.
A lot of people think that blogging is an easy way to make money online. Do you have some tips for those people who are interested in making money from blogging?
I think the first thing you need to know about making money from blogging is that you need to put in a lot of work to be seen. You need to constantly evolve and create good content before brands can put their faith in your brand too. It's not easy, some of us have been at it for years, and the big bucks aren't coming in yet, but we keep creating and keep working with the hope that our work will speak for us.
What do you think is the best social media strategy for getting more visitors to a blog?
What works for me is being original and relatable. My blog is for the Nigerian girl who loves fashion but would like to keep it affordable, and if they can't relate to my style, then I won't get any readers. Also, you need to put yourself out there. Collaborate with other bloggers, submit guest posts on other blogs & websites, do little freelance work for bigger platforms and recognition starts to come. You can get them but keeping them lies in you possessing that attribute that they will like.
What would you say is the biggest challenge about fashion blogging?
The biggest challenge has to be meeting up with the standard before brands would want to work with you. After a while though, you realise that although your blog & social media pages have to be great, brands will work with whoever they like so you can't beat yourself up over that. My challenge until recently was getting photographers to work with especially when you're not making money yet. A lot of bloggers forget why they started (that is if they started blogging as a passion) and start to do what they think will attract/please the brands not thinking about what their audience wants from them.
As a blogger, what are your achievements to date?
What I would refer to as major achievements is people inviting me to speak to a physical audience about what I do and how I do it. Walking on the road and someone recognising me then saying how I influenced their style or pointed them in the right direction of making fashion decisions. These little things make me feel like I'm doing something right. I'm achieving my goals.
What challenges have you gone through since starting up and how do you get funds to start your blog?
At first, I was going with the flow until I realised I had to do business out of the blog for me to maintain it. Getting good photographers to collaborate with, shoot locations void of touts, time to create good content, getting brands to notice my work while remaining true to myself, maintaining all these with other things I do etc. I have a full-time job that mostly funds my blog.
How is the competition in your industry and niche?
The competition is tight! People are constantly in debts because they feel the need to compete with other fashion bloggers forgetting that it's an individual race. They don't just draw inspiration from you; they want to be like you and end up being the worst form of copy-cats. Everyone wants to be the one working with the most brands and 'pepper' others on social media. It's insane and funny to watch. I believe the only competition you should have is yourself. Always try to be better than the person you were yesterday.
What are your plans for the blog?
I'm working on providing more services for my readers. Not just to give style inspiration but have a real connection with them and help improve their styles. I also would be using the blog more to promote great upcoming African/Nigerian fashion brands; I hope this would open the door to so many opportunities for African Fashion and bloggers too. We need to appreciate our people more; they make solid stuff.
What is your advice for aspiring bloggers?
The blogging industry can easily swallow you up when you come in with no individuality. Stay original but always be willing to learn, different trends pop up every day, upgrades on social media etc. You have to keep up but don't lose yourself in the process. Stay true to your craft.
Any news, offers, deals or message to your audience?
Follow my blog and social media handles, from next month I'll be announcing plans for the blog, and there will be monthly giveaways. If there is anything you want to talk about concerning your style or fashion, shoot me an email, I'd always respond. I'm cool like that.
To get more of Wumi 'Tuase, connect with her on Instagram, Facebook and Twitter.
Join our list
Subscribe to our mailing list and get interesting stuff and updates to your email inbox.