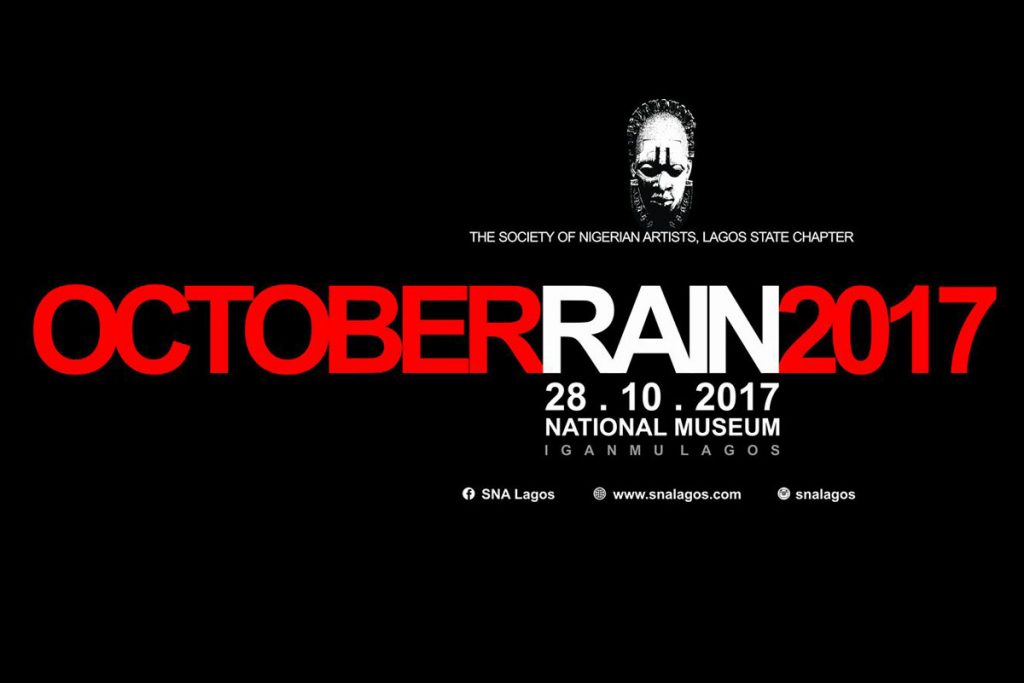 SNA Lagos Presents 10th Edition Of October Rain Art Exhibition 2017
The Society of Nigerian Artists Lagos State Chapter presents to you the Participating Legends at the 2017 October Rain Art Exhibition alongside with other masters in the Nigerian Visual Art Industry. The event will mark the 10th edition while celebrating Lagos State @ 50 and dedicated to the loving memory of an illustrious son of Lagos State and a great Nigerian Art Patron Late Chief Rasheed Gbadamosi.
It is October again, and the 'rain' is torrential! Yes! It is raining cat and dog as we host this special edition of our annual ritual called 'October Rain'.
Beyond the drizzles and torrents, this rain predisposes to the eclectic artistic rendition that practically and actively redefines the diversifying creative and thematic content of the Nigerian visual art space.
October Rain is an annual Professional Art Exhibition devised and staged by the Lagos State Chapter of the Society of Nigerian Artists (SNA). It has been a melting pot of creativity and exposition for Lagos-based practicing artists to project standard and originality in creativity while depending on the uniqueness of individual visual language.
In 2008, the maiden edition of this annual art fiesta was inaugurated at the National Museum. It attracted a multitude of artists, art patrons, enthusiasts, arts writers and the general public. Little wonder the event has become a formidable platform for the members of SNA-Lagos to foster creativity.
October Rain has consistently captured and projected genuine creative efforts of the exhibiting artists while steering genuine interest of art lovers, art collectors and patrons towards the regurgitation and retention of our rich cultural heritage.
This year's exhibition series, which marks the 10th anniversary, is intended to celebrate Lagos at 50; it is equally dedicated to the loving memory of an illustrious son of Lagos State and a great Nigerian Art Patron, Late Chief Rasheed Gbadamosi. The exhibition will be featuring different genres of art, including Painting, Sculpture, Ceramics, Textile, Mixed Media, Conceptual works from Performance, Cartoon, Experimental art, and Drawing.
The climax of this 10th-anniversary edition is the participation of the living legends of Nigerian Art, grandmasters of Art whose immense contributions to Nigerian art development cannot be over-emphasized. The list is long and rich: Yusuf Grillo, Abayomi Barber, Bruce Onobrakpeya, Banjo Fasuyi, Dele Jegede, Jerome Elaiho, Bisi Fakeye, Nike Okundaye, and Kolade Oshinowo.
Other masters who feature with the prominence of their stylistic diversification are Kunle Filani, Kunle Adeyemi, Olu Ajayi, Abiodun Olaku, Bunmi Babatunde, Edosa Ogiugo, Mufu Onifade, Hamid Ibrahim, Jelili Atiku, Rukeme Noserime, Sam Ovraiti, Olu Spencer, Dotun Alabi, Stella Awoh, Biodun Kafaru, Aimufia Osagie and many other prominent Nigerian renowned masters.
Also participating are the emerging artists like Nzennaya Barry, Olawuyi Samuel, Kehinde Badmus, Anthonia Nneji, Ogunkunle Niyi and many others.
We welcome you to this wonderful rain of art and creativity and hereby hope the shower of blessing will overwhelm us all.
For more details, visit www.snalagos.com.
Join our list
Subscribe to our mailing list and get interesting stuff and updates to your email inbox.