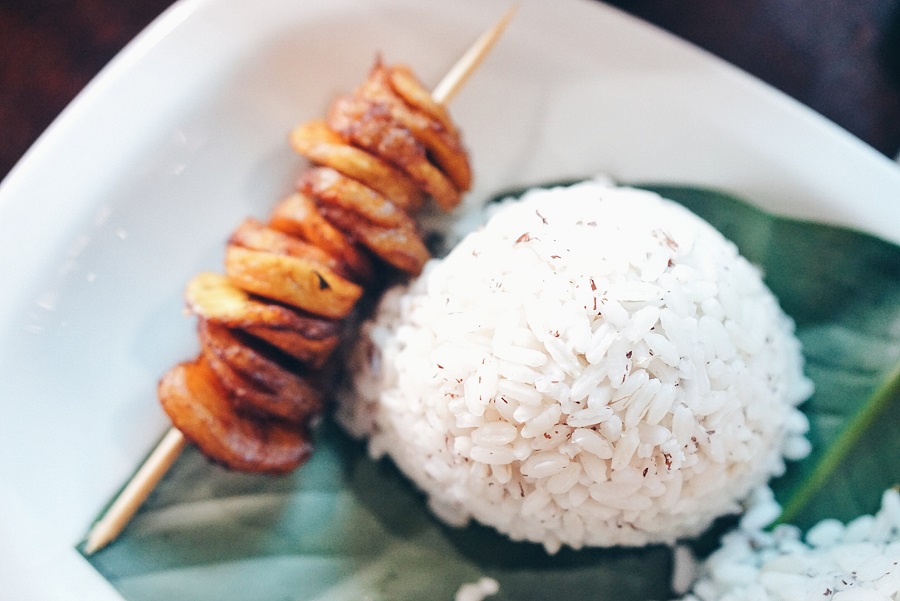 Top 7 Nigerian Foods to Eat to Lose Weight Fast
Most of us think that the word "weight loss" and "Nigerian food" can never be in a sentence; this is because Nigerian foods are majorly carbohydrate. However, we do have other foods that are non-carbohydrate and that you can eat when you want to lose weight.
Below is a list of Nigerian foods to eat to lose weight.
Nigerian Foods to Eat to Lose Weight
Brown Rice (Ofada Rice)
Ofada rice is a type of rice grown in southwest Nigeria. It is low in calorie, gluten-free and has a high fibre content, which aids digestion and lowers the cholesterol level compared to the polished white rice. It contains vitamin A, C, E and essential minerals.
Ditch your white Asian polished rice for our Ofada rice, and see how it helps you lose weight.
Vegetables
Yes, we know vegetables play an important role in the overall health of the body. They contain a high amount of dietary fibre, low calories, and vitamins and minerals; also, they keep you fuller for a long time and supply you the much-needed antioxidants.
With all these nutritive attributes of vegetables, they are one of the perfect Nigerian foods to eat to lose weight. Some of the Nigerian vegetables that help in weight loss include carrots, mushrooms, cucumber, bitter leaf, waterleaf, Jute leaf (Ewedu).
Tip: When preparing your vegetables, do not overcook, add too much oil, and fry for long; overcooking, adding too much and over-frying reduce their nutrients.
Unripe Plantain
We all love our sweet ripe plantain especially when it's fried.  But what if I tell you the best form you can have your plantain especially when you are concerned about your weight is when it's unripe? (yes, yes, you heard that right).  Unripe plantain is one of the best things in the world when it comes to weight loss because it contains low calories and resistant starch.
Resistant starch is better than simple starch because it passes through the stomach and small intestine unchanged; it also reduces blood sugar levels after meals.
Unripe plantain has a lot of fibre content that fills you up for long and does not store up as excess fat.
So next time you are thinking of how to ditch your ripe plantain, have it in mind that you will be doing your body a whole lot of good.
Beans
The list of Nigerian foods to eat to lose weight won't be complete if I fail to add this. Most ladies hate beans. But unfortunately, most ladies want to lose weight. Beans are rich in high dietary fibre and lower the rate of digestion. Therefore, ladies (and anybody) that want to lose weight should consider taking beans.
If you don't like beans, you can take Moi-Moi or Ekuru; make sure you don't overcook them and don't add too much oil. Beans itself makes you absorb fewer calories and also regulates blood sugar level.
White Meats
White meats are meats that are pale in colour. They appear pale before and after been cooked, as opposed to red meats – which maintain their red colour.
White meats contain lesser fats compared to other meats, eg. Fish, Chicken, Snakes, Duck, Snail, Rabbit, Pork and milk-fed mammals.
By consuming white meats, you can be less concerned about the amount of fat you are consuming.
Peppers
The presence of capsaicin in peppers oxidises layers of fat in the body – that burning, hot sensation you feel whenever you eat peppers melts fat in your body. Peppers also reduce your appetite for more calories intake.
So whatever peppers you have – be it Cayenne, Black, Habanero, Bell etc. – you can prepare it directly with your food, or get the powdered form from a food store near you and sprinkle as much as you like on your meal.
Fruits
Fruits are everywhere in Nigeria; every region has a fruit synonymous to it.  There is the need to know that when it comes to weight loss, some fruits work better and faster than others; good fruits for weight loss include watermelons, apples, banana, pear, lemon, and orange.
You can decide to stop eating anytime from 6 p.m and snack on fruits and watch out for the difference in your weight.
The above is the list of Nigerian foods to eat to lose weight. Consider making them an important part of your dietary plan if you want to maintain or lose weight.
Join our list
Subscribe to our mailing list and get interesting stuff and updates to your email inbox.