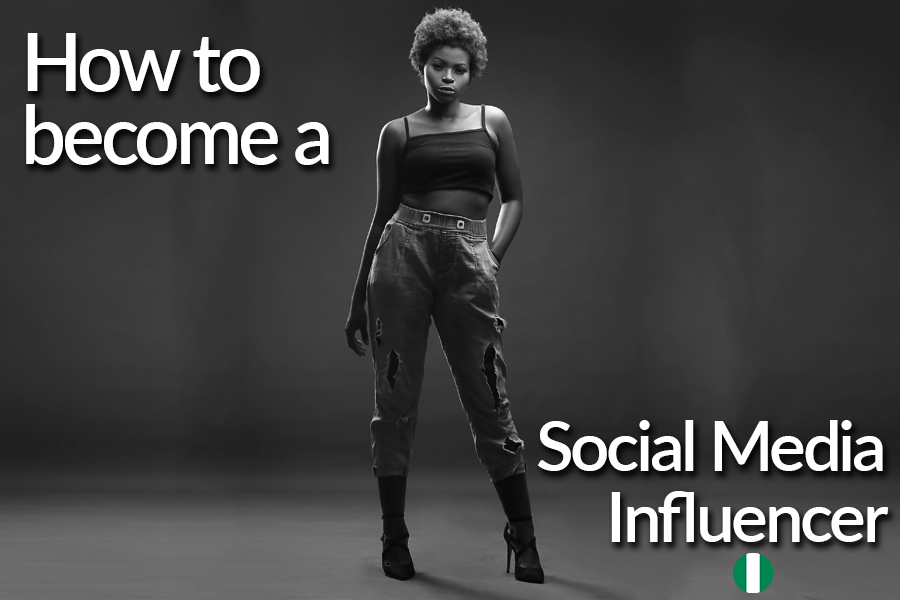 How To Become A Sought After Social Media Influencer In Nigeria (2020)
Humans are usually fascinated with numbers and statistics. Well, here is one that bears considering – 42%. That is the percentage of the global populace who are active users of social media platforms.
42% is a big number that translates to around 3 billion+ people. Yes, people like you, I and the obsessed fella down the road who learns the Zanku dance on YouTube. All of us social media users in the main, spend hours daily on the likes of Facebook, Whatsapp, YouTube or Instagram, living the dream life.
Now, out of this 3 billion+ people, around 74% are deeply influenced by what they see on social media, to the extent that it guides what they buy and where they buy it. This has led to the rise of people called social media influencers. The job description of these influencers is to entertain and convince social media users to buy one thing or the other or do one thing or the other.
Influencer Marketing is exploding. Those who are great at it currently earn very cool cash just for praising one product or the other to the skies and are more famous than famous! Thinking of becoming a social media influencer in Nigeria, are you? We don't blame you, because the money and exposure are awesome, and joy one derives from promoting a brand online is satisfying.
Well, here's what has to be done to kick off your social media influencer career with a bang! But first, who and what is a social media influencer?
Who Is A Social Media Influencer?
Well, social media influencers are not aliens from a distant galaxy who love being entertained by the follies of men. Influencers are actually very human folks who make use of social media to promote or review an item, product, idea, concept, brand and the likes. These kinds of people tend to be quite good looking, know how to engage with their audience and keep them coming back for more and often have page views in the millions.
Due to their immense popularity, influencers often have more power among their followers and admirers than an Ijebu native doctor could dream of!

7 Steps To Becoming A Social Media Influencer In Nigeria (2020)

Influencer marketing is a multi-billion dollar business and could reach $10 billion in 2020. If you are a Nigerian, there are ways to get ahold of a slice of this moolah.
Sure, the influencer market is currently more crowded than the Ladipo Spare Parts market, but there are ways and means to make one's name known as an influencer and start getting ahold of some cash. These will be detailed below:
1. Discover Your Niche
As the influencer market is crowded, the only way folks can make a mark is to find their own niche and then stick to it. This niche will be the foundation of the social media brand, and must be currently popular, but not overly so. It could be something like reviewing the spiciest Nigerian foods, the craziest Nigerian fashion, the most interesting arts and craft, as well as local tech. Whatever niche is chosen, it is important to offer content that is different from the rest and of the highest possible quality.
2. Build Your Personal Brand And Be Unique
The next thing to do is to build up and polish your brand. This requires doing proper research so as to identify the main influencers in your niche and what they might be doing wrong. These mistakes must then be capitalized on and used to make your brand as unique and interesting as can be.
3. Publish Engaging Content And Engage Your Audience
Content must be regularly published and must be of high quality or else. The featured content must as well be optimized for each particular social media site. As an example, Facebook, Instagram and Twitter are often best for posting images, while lengthy videos on Instagram usually needs to be cut up before they can be posted. More, Facebook videos usually run better when they are directly uploaded to the platform while using the proper hashtags can really make a difference. For maximum engagement, it is best to focus on trending topics and to provide the sort of content that the audience can easily relate to. Also important is having a good relationship with the audience. This can be achieved by inviting the audience to comment on posts, readily answering their questions and generally being a friend they like and can trust. Telling them that dysentery would never depart from their family just because they disagreed with you is a definite no-no.
4. Cultivate Patience And Remain Relevant
Patience and large doses of it are required of any individual who is desirous of becoming a social media influencer. In this field, success is unlikely to come at the speed of light, which means there might be dark times when the urge to quit becomes almost irresistible. Rather than just giving up, a much better option would be to keep working towards the main goal and focusing on providing relevant content that an increasing number of people and corporations would go gaga for.
5. Start Small To Become Big
Rome was not built in a day, or even in a month. At the beginning of your social media influencer career, the views might be small, the audience puny and the attention received unfavourable. This should however not be discouraging. Regardless of the smallness of the present audience, it is important to keep on delivering the content of the highest quality that audience members would feel obliged to share to friends and family. This will, of course, boost your brand appeal. Worth noting is that there is nothing wrong with starting small, just focus on getting big and blowing up the Nigerian social media scene in the nearest future.
6. Measure Your Result
This involves taking stock of what has been done so far and then finding ways to improve. Measuring the result makes it possible to find out what works and what doesn't, as well as what is worthwhile and what is not worth a good fart! Constant measuring of results is required to prevent dissipation of effort and keep the audience happy and wildly entertained.
7. Join a Modelling Agency in Nigeria
Join a professional modelling agency in Nigeria who can market your personal brand and represent you to prospective clients and brands. This will allow you to concentrate on engaging your followers while the modelling agency does all the legwork to connect you with the right clients. There are not many agencies in Nigeria who represent influencers as well as models, but Box Models Agency Nigeria leads this space.
Read Also: Top 6 Modelling Agencies in Nigeria
Conclusion
Social Media Influencers are much in demand worldwide. Those thinking of beginning a career as a social media influencer in Nigeria are advised to follow the steps listed above. This includes selecting a great niche, properly engaging and interacting with the audience, and ceaselessly delivering great content.
When this is properly done, success is just about assured and you can start planning on the colour of the Benz you will buy for your mom this December!
Do you have what it takes to be a successful Social Media Influencer in Nigeria? Contact Box Models Agency Nigeria for representation as a Social Media Influencer in Nigeria, and start your journey to success and stardom today.
Join our list
Subscribe to our mailing list and get interesting stuff and updates to your email inbox.