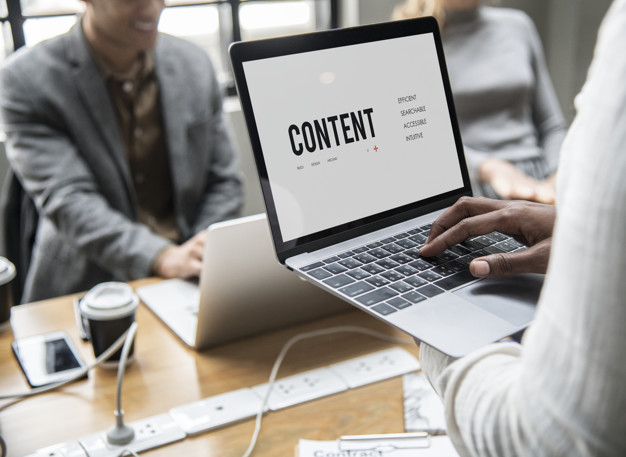 8 Tips For Becoming a Content Creator In Nigeria
Being a content creator is a lot more than it sounds.  There are very few digital marketing strategies that don't include content creation as a plan that's why 91% of business to business (B2B) use content marketing as part of their strategies.
Even social media marketing campaigns still need valuable and creative content to be successful.
There are a lot of reasons you might want to become a content creator, maybe you want to create contents for your brand or you want to become a professional content creator. Either way, this content is for you to kick start your content writing career.
Content is a set of information (videos, pictures, texts) that is usually relevant and engaging with the sole purpose of educating your audience.
Content creation is the process of generating content ideas or creating creative and valuable content targeted to a defined customer persona.
Content Creation revolves around four things which are creating awareness, building relationships promoting products and educating customers. Making a research about the awareness you created earlier to educate themselves, the consideration which usually involves the customers deliberating on the product if they are getting the value for their money. Now to the big question here "how do you become a content creator?"
8 Tips for Becoming a Content Creator In Nigeria
Follow top news in your industry every day
Network At Every Opportunity
Know Your Industry audience
Write Consistently
Create Your Voice and Style
Get Your KPIs
Curate contents only when necessary
Question Everything
Follow top news in your industry every day
You can't be a content creator without following up on the news and trends in your industry. The best content creators search the internet to know the latest trends in the industry. Be knowledgeable and up to date in every area of your industry.  One of the ways of being up to date is also by reading other content creators content. Master the habit of reading as this can help you go a long way in keeping your content fresh. You can set up an RSS Feeds to keep tabs with blogs that post relevant and useful news pertaining to your industry. The best content creators are always curious and are always on the lookout for subjects their audience might care about. This can also help you improve your skills.
Know Your Industry audience
You can't excel in content creation if you don't know who your audience is. When you study your audience well enough, you find a lot of opportunities you wouldn't have found if you didn't study them. You should know your audience inside out, you should know what issues they have that you can help them solve. You can identify your audience with different specifications like age, gender, location, salary. You shouldn't work on data and analytics alone, you should also seek customer's insights. Don't just make assumptions if you want to be a content creator because that will make you sound like everyone else in your industry.
Write Consistently
The more content you have, the more audience you will get. The more you write the better you get at writing. You shouldn't be shy of expressing yourself through writing. Writing shouldn't be a thing you only do when you have time, you should always make time to write because if you don't write consistently, you'll lose it. You can get into the character of writing daily for maybe 10 to 15 minutes to help you flex those writing muscles. Consistent writing can keep those jumbled up ideas in your head straight. Writing consistently will build a loyal stable audience for you. It is not about going about the internet and examining sentences and pulling the biggest word you can find. It's about communicating your ideas very well to your
Create Your Voice and Style
You are not the only content creator in your industry that's why you have to be unique. There are a lot of content creators who will be doing the things you do that's another reason why you should establish your own voice and style so you won't get mixed with the crowd. There's a number of things you can do to make your voice different from the crowd like promoting your content on different channels, expanding into a new content medium. Don't hesitate to let your good writing personality come out.
Get Your KPI
KPIs (Key Performance Indicators) is a measurable value that shows how productive an individual or a company is attaining relevant business objectives. Over 3.2 billion users are on the internet and 84.3 Nigerians as at 2018 so it's safe to say there's a very good chance your content won't get discovered all by its self.  To make your content discovered, you need to identify KPI and then focus on it so as to optimize your content for it. You can measure your KPIs with social media traffic, direct traffic, and organic traffic. If you choose to concentrate on organic traffic, it's advisable to study Google algorithm to find out how it ranks content, in order for you to optimize it for good performance.
Curate contents only when necessary
It is not enough to take relevant and essential industry news and just give it back to your audience. It is important to curate content only when you have something to add. And since you have started searching the internet on a daily basis you are more knowledgeable than you think. So give your audience more additional, useful information or opinion when sharing other content.
Question Everything
As a content creator you should be always curious, always be hungry for more information because what you know won't always be enough. "You need to be curious to identify problems worth solving," says Lorraine Twohill, head of marketing at Google. Don't be afraid to ask questions, asking questions will help you know more. Critical Thinkers make Great Content Creators.
Join our list
Subscribe to our mailing list and get interesting stuff and updates to your email inbox.