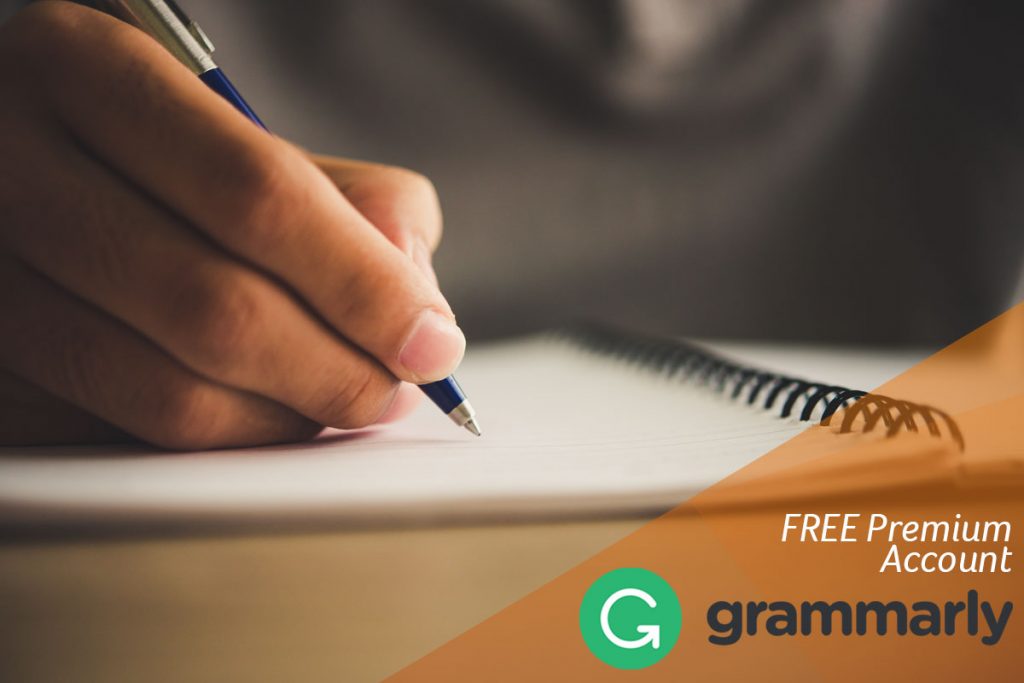 How to get Grammarly FREE Premium account in Nigeria
If you are reading this post, I can imagine why you need a Grammarly Premium account. For those who haven't heard much about Grammarly, it is a tool that helps you to write without making common mistakes like spelling errors, punctuation marks, subject-verb agreement, use of modifiers and articles. The tool can be used for correcting contents written on your Windows computer, web browser, Facebook, Gmail, LinkedIn, Twitter and most other websites.
If you are looking to finesse your writing skills and quality, Grammarly is a must have in your arsenal. There is a free and premium version of Grammarly available to users. Whichever version you go for, there are three apps you can install to maximise the use of the tool; Windows computer, Microsoft Office and Google Chrome.
The free version of the software allows you to correct and rectify common mistakes while the premium version reveals more critical errors/issues and offer suggestions and guidance on how to correct the issues. If you want to get the most of the software, the premium version is the way forward, but it does come at a cost – yearly subscription. The image below shows the pricing for all three available plans for Grammarly Premium.
The good thing is that the premium account offers you one-week money-back guarantee; this is a good way to try the premium account out. Note that you can only benefit from the money-back guarantee once in a lifetime of a Grammarly account.
So, if you still want to benefit from the premium plan of Grammarly without paying a dime, all you need is to refer a friend and for each friend you refer that registers a new account, you will get one week free of premium account and your referrals will also get one-week free premium plan. Don't be deceived by claims of having a lifetime Grammarly free premium account which is being promised on the internet – there is nothing of such. You will only get conned, and you will have yourself to blame. The method I am about to show you is the only legit way of getting Grammarly free premium account in Nigeria and the rest of the world.
Here are the steps to get a Grammarly free premium account for as long as possible:
Launch your Google Chrome browser. If you don't have google chrome already installed, here is a link to download it: https://goo.gl/C87tzp
If you don't have a Grammarly account and you are just creating a new account, copy and paste this link into your browser: https://gram.ly/GPCM (you will automatically have one-week free premium account with this link). Go to Step 3 to proceed.
If you already have a Grammarly account, ensure you're logged in, then copy and paste this link to your Google Chrome Browser: https://www.grammarly.com/referral?utm_medium=referralProgram
Since you already have a free account, you will get the message below. You don't need to worry about it, just ignore it. Go to Step 5 to proceed.
For new users, creating a new account is pretty straightforward. Once you in a fresh tab on Google Chrome;
i) Copy and paste this link – https://gram.ly/GPCM (use this link as it will ensure you have one-week free premium account to start with).
ii) Click on Add to Chrome it's free.
iii) The screen below will pop-up on your browser, Click on Add extension.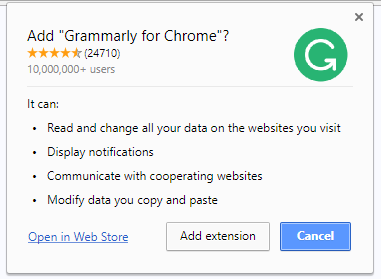 Google Chrome extension will download automatically and install the extension. You should get a message saying the extension has been added to Google Chrome.
iv) You can personalise Grammarly, or you click on Skip.
v) Put in your email address, password, name, and click Sign Up. Ensure you put the right details as you might need the login details later for other Grammarly Apps.
vi) On the next page, click on Continue to Grammarly – It's Free.
You should now be logged in to Grammarly App Dashboard, and you should see a web page like the one below showing the blue "PREMIUM" ribbon at the top left. This ribbon indicates your one-week free premium credit.
To extend your free premium credit beyond one week, follow the steps below.
While logged in to your Grammarly account, open a new tab, copy, paste and launch the link below to invite your friend using your referral link:
https://www.grammarly.com/referral?utm_medium=referralProgram
On the Referral page, there are two ways to invite your friends:
i) By entering your friends' email address and clicking Send (see option 1 in the image below). Grammarly will send an email asking your friends to sign up, with your referral link embedded in the email.
ii) Alternatively, you can copy your referral URL (this will be required in Step 7) and send to your friends or create more accounts for your friends and family (see option 2 in the image below).
To create more accounts from the same computer for yourself, friends and family, then go to Step 6.
i) In your Google Chrome web browser, click on the profile image at the top right, and then click on Manage People (see image below). As your current account has been cached, this is required to create an alternative Grammarly account.
ii) In the Manage People window on your screen, click on Add Person, type in a name for the person's profile, and click Save.
You now have a fresh browser ready to be used to create an alternative Grammarly account which will yield more free Premium credits.
Copy, paste and launch your referral URL from Step 5ii in the new web browser and repeat Steps 3ii to 3vi.
UPDATE: Grammarly has stopped their referral program so the above tips might not work.
Join our list
Subscribe to our mailing list and get interesting stuff and updates to your email inbox.