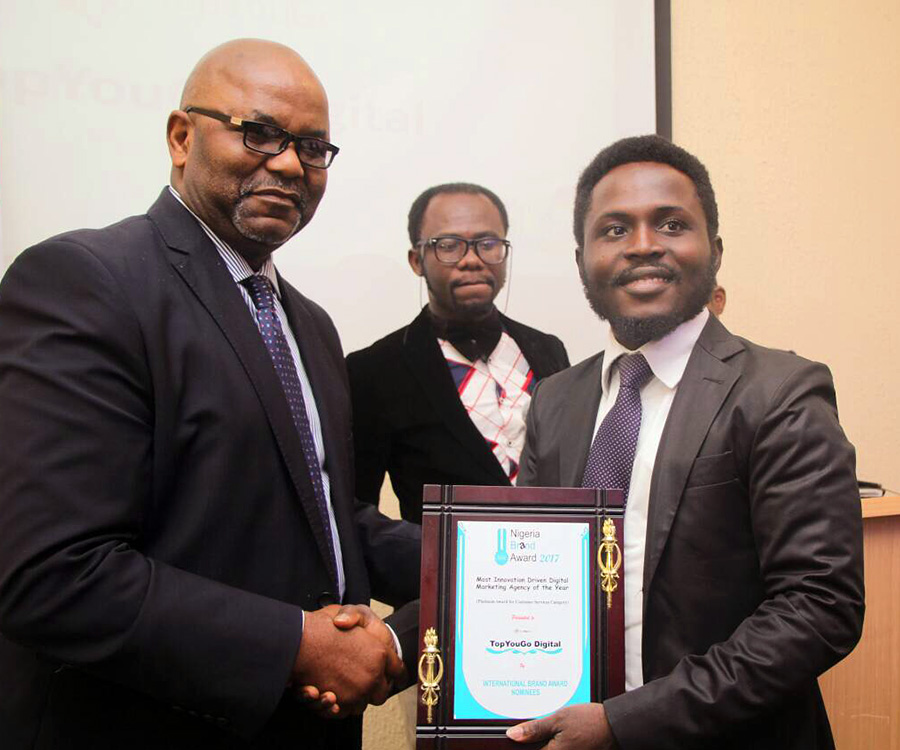 TopYouGo Wins The Most Innovation Driven Digital Marketing Agency In Nigeria 2017
TopYouGo Digital Marketing Agency, a full-service leading digital marketing agency has recently added one more award to its collection of awards of excellent services. The digital marketing agency bagged the award as The Most Innovation Driven Digital Marketing Agency in Nigeria in the Customer Service class of the Nigeria Brand awards' 2017 edition. The announcement was made during the seventh version of the Diamond which took place in recent time.
The Nigerian awards that comes up yearly is one that has been designed to recognise businesses that have remarkably performed in the area of customer services. They also honour industries that are exceptional in their various practices, with their merited awards. Consequently, this has continuously raised the shaft of excellence, professionalism, and innovation among digital marketing brands in the country.
For this project, a five-man board of judges was set up and comprised of very well experienced experts residing within and outside the country. The judges reviewed and announced the names of each winner for each category during the 2017 edition brand awards. Meanwhile, a 500 point criterion was decided on for the year's Nigeria Brand Award, and each winner got a minimum of 80% of the benchmark.
The chairman of the award committee, Mr Mike Samson said in his address that the 7th edition of the event was prepared towards inspiring excellent customer service and more innovations in both the public and private sectors.
Commenting on the award, Mr Joe Daramola who is the head of the digital marketing agency said: "To get nominated for an award of excellence in Nigeria is already breath-taking. To win the award is very rewarding and encouraging. At TopYouGo, we are devoted to helping our clients' businesses grow, and this award is a testimony that our efforts and the great services we deliver haven't gone unnoticed. We promise to do more and even more for Nigerian businesses."
TopYouGo Digital Marketing Agency is a Lagos-based company with its tentacles of digital marketing services spread all over Nigeria, United Kingdom, and overseas. In addition to being a very determined company, they possess a highly concentrated desire for success, and they make use of customised and exceptional digital marketing methods in delivering excellent and remarkable results for their customers/clients. The continuous positive results achieved for their clients' campaigns have led to the progressive growth of the company's clientele.
Join our list
Subscribe to our mailing list and get interesting stuff and updates to your email inbox.