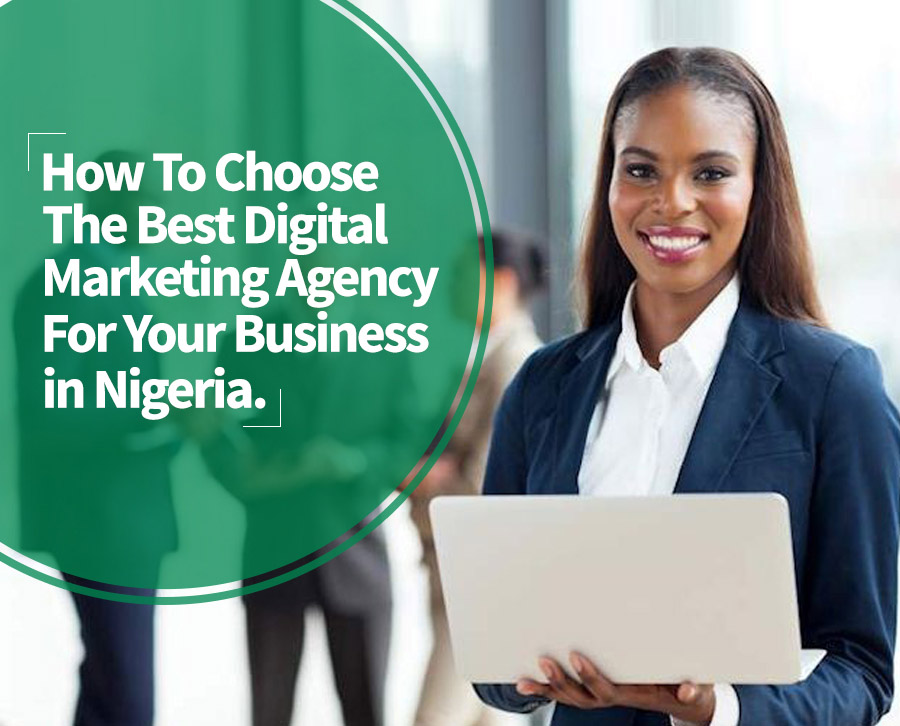 Choosing The Best Digital Marketing Agency For Your Business In Nigeria
The growth of a business depends largely on how well that business is promoted. It is no news that digital marketing is one of the most effective ways to reach a larger customer-base, as we're currently in a generation where almost every individual has access to a mobile phone and the internet.
While an organization can create its own marketing team, it is always advisable to contract your marketing needs to established digital marketing agencies. Reason being that a digital marketing agency consists of marketing experts that are already in the game and know all the tips and tricks to run a successful digital marketing campaign.
One of the major issues faced by organizations in Nigeria when it comes to outsourcing their marketing needs to agencies is how to choose the best digital marketing agency for their business. It is true that there are a lot of scam agencies that would rip organizations off their money and end up adding no values to their businesses hence the need to separate the sheep from the wolves and distinct the best digital marketing agencies.
There are several digital marketing agencies in Lagos and Nigeria as a whole. How then can one choose rightly?
Choosing the best digital marketing agency in Lagos or knowing which digital marketing agency in Nigeria can be trusted is quite a tedious task to accomplish as there are countless digital marketing agencies in existence already, and more are still springing up. But I will give you a few tricks to be able to ascertain which digital marketing agencies can be trusted in Nigeria.
Investigate Their Brand And Online Presence
You do not need to be a private investigator to do this. If a company claims to offer digital marketing services, then it should have a visible and strong online presence. Search for them on Google and see what you can find out about them. Do they have a professional looking website? How eye catching and professional is their logo? Is it professionally made or does it look like one anybody can do? How many social media platforms do they have an account with? Are these social media accounts engaging? How many followers do they have?  Do their posts have enough likes and comments? These are questions you should find answers to before deciding on which digital marketing agency to outsource your job to. If you are not satisfied with the answers you get, trash that one and investigate the next on your list until you find one you feel comfortable with.
Check Their Offered Services
In order for you to choose the best digital marketing agencies, you need to first check the variety of services they offer. Be sure they can handle all your digital marketing needs so you don't have to outsource to more than one agency. A good digital marketing agency should be able to comfortably offer all the services listed below:
Web design and development
Search engine optimization and marketing
Mobile marketing
Email marketing
Social media marketing
Online advertisement
Online reputation management
Portfolios and Testimonials
A reputable digital marketing agency would allow its work speak for itself. Check their website for a portfolio page which shows some of their successful jobs. Note that the more successful clientele listed, the more trustworthy the agency is.
There should also be testimonials from some of their customers. Always look out for negative feedbacks and remarks. If you find any, then that is probably not the best digital agency for you. Look for one with quite a good number of positive feedbacks and ratings.
Customer Support
It's quite frustrating when you have a challenge and can't seem to reach the only one who can help. Before choosing a digital marketing agency, be sure they'll always be there for you when you need them. Test their response rate by contacting them through their website contact form, live chat (if available), email address provided or any phone number listed. Watch to see how fast they respond and how well they are able to treat your request. You'll be investing a lot in this company so it's wise to know before-hand that they'll always be there to provide support when you run into problems with your marketing.
The success or failure of your business depends largely on the digital marketing agency you choose. So put in extra efforts in making sure you choose the best one out there and be sure to establish a long term business relationship with them when you find them.
If you are still struggling to find the right digital marketing agency for you in Nigeria, please feel free to ask for further advice.
Join our list
Subscribe to our mailing list and get interesting stuff and updates to your email inbox.