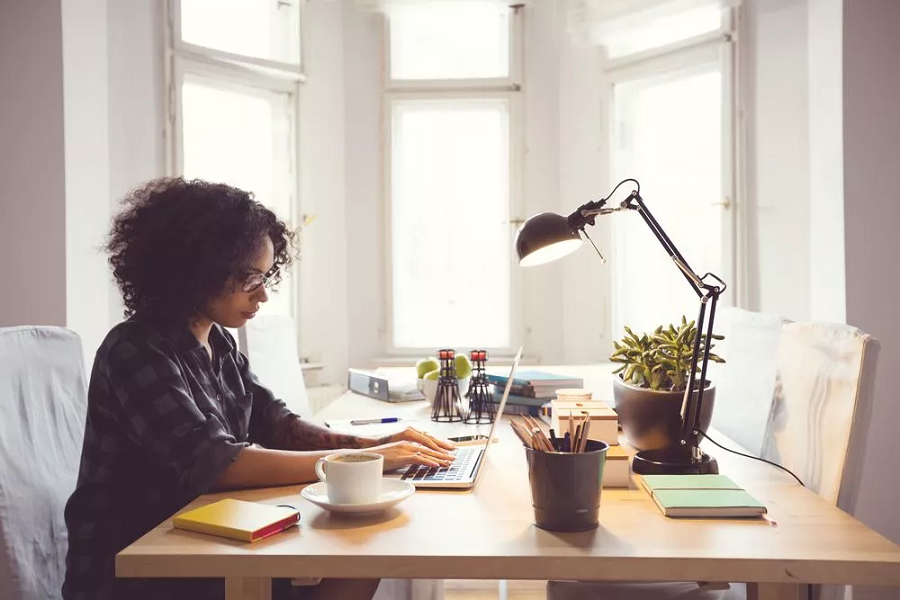 7 Work-from-Home Jobs in Nigeria Anybody Can Do
If you dislike the exhaustion that arises from going to work every day, need to stay at home to cater for your wards, have lots of businesses that demand your attention or simply want a side hustle to boost your current income, you might want to consider some work-from-home jobs in Nigeria.
In this ever-growing digital world, work-from-home jobs have been rapidly embraced around the globe, and Nigerians have not been left out. As the population increases and the economy improves, companies are more likely to offer remote jobs to people that can actively meet schedules and deadlines. However, to work from home, you have to possess some basic skills, a computer equipped with internet service and a dedicated work area.
Work-from-Home Jobs in Nigeria
Writing
Writing is one of the most common work-from-home jobs in Nigeria and is as old as the earth. Freelance writers are saddled with the responsibility of writing articles for various websites/companies. For each article, there is an agreed number of words that you have to write and deliver at a stipulated time.
This means that you must have good time management skills; owning this tells your employer that you are professional and reliable. It also determines how many articles you can accept or reject and deliver on time.
As a writer, you must have the ability to communicate and have good knowledge of grammar, spelling and punctuation. Working as a freelance writer requires that you have good research skills, stay up-to-date with latest trends, and have a good understanding of SEO; you must be able to compose SEO friendly articles, use keywords effectively and keep up with Google's latest algorithm changes.
Virtual Assistant
Virtual assistants are self-employed and provide professional administrative assistance to clients remotely from a home office. A virtual assistant must be organised and have the ability to multitask. You will perform typical office duties like responding to emails and phone calls, managing calendars, preparing customer spreadsheets and keeping online records, etc.
It is therefore important that you be familiar with current technologies like cloud services and VoIP (Skype), have excellent communication skills, and good knowledge of word processing software and spreadsheets (e.g. MS Office).
SEO Consultant
The growth in the use of the internet has favoured the creation of many websites, and many businesses and brands are creating websites every day. This means that there will always be SEO jobs for you.
An SEO Consultant promotes the online visibility of a website/webpage in a search engine results page. To excel, you must understand how search engines work, the computer programmed algorithms which dictate search engine behaviour, and the actual keywords (search terms) typed into search engines. As an SEO Consultant, you will be responsible for optimising a business' online presence so that its web pages will be displayed by search engines when a user enters a local search for products or services.
Social Media Analyst
This is another work-from-home job in Nigeria that will always be available – thanks to the evolving digital world. Social media assembles a community of people from different parts of the world with different backgrounds, religion, and language – and thus creating a social network.
There are about 100,000,000 registered users on social media today. In America, a 2015 survey reported that 71 percent of teens have a Facebook account, with many spending more than two hours a day on social networking sites. Brands have now leveraged social media as a tool to extend their reach.
A social media analyst boosts the online presence of a company by efficient use of social media (Facebook, Instagram and Twitter), blogs and on-site SEO to drive sales and create the company's brand awareness. It is expected that you should be social media savvy to take on this role.
However, analysts that have a background in marketing and a bachelor's degree in a field such as public relations, business communication or social media management have a greater edge.
Customer Service Representative
Customer service representatives interact with customers on behalf of an organisation. A good customer representative should have knowledge of products they provide information about, possess clear communication skills to enable them to listen and respond to customer's needs and concerns, and patience to tolerate angry customers.  Time management skills are also important.
Graphic design
Amazingly lucrative if you possess the required skills, graphics designing is another work-from-home job in Nigeria anybody can do. It involves creativity, knowledge of industry software, web-design and communication. These days, it is uncommon for graphic designers also to be web designers.
Adding web design to your portfolio will increase your chances of landing a graphic design job.
Vlogger
Vlogging is otherwise known as video blogging, and it is common among people that create content geared towards teaching (tutorial videos), entertainment (video skits), reviewing (products, games, movies) and being just awesome on the internet.
These set of people usually generate a high level of engagement and have a robust number of views on video sharing platforms like YouTube. This implies that much creativity is required to make videos that can project you to attaining a wide reach. Making money just got easier – you can become a YouTube partner and make money from ads, make money by selling products/ merchandise or work with brands as an influencer or affiliate. You may even licence your content to the media if it happens that it goes viral.
Conclusion                                                                               
While some work-from-home jobs in Nigeria may require a level of academic excellence to take on, others may require basic skills which could sometimes be technical. When taking on freelance jobs, it is important that you understand the type of job, the job description and its requirement.
Join our list
Subscribe to our mailing list and get interesting stuff and updates to your email inbox.