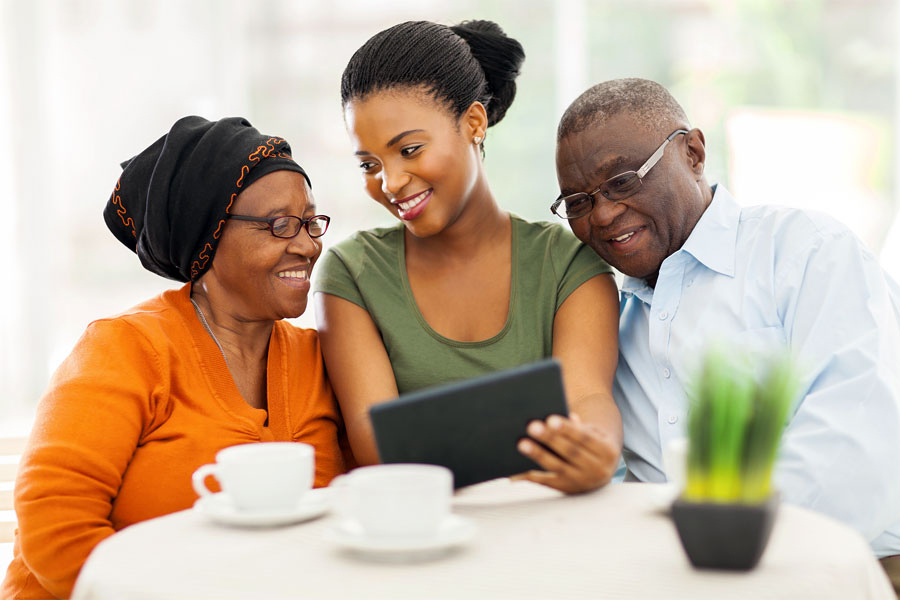 How to Explain Digital Marketing to Your Grandparents
Our grandparents have lived long to see a lot of changes in our world; they were there when Nigeria gained her independence, they were there when the first radio and TV station were launched in the country.
During their lifetime, lots of salespersons have walked up to them to market products and services, and they have viewed and listened to countless marketing promotions on radio and TV. For them, Traditional Marketing isn't a new way of marketing goods and services because they are used to the medium; they also understand its concepts.
But as for Digital Marketing, it is abstract to them – perhaps that's because the computer and the Internet still look like a mystery to most of our grandparents in Nigeria.
So if you work as a Digital Marketer and your grandparents ask you to explain what you do. Or you are an offline marketer on the road trying to convince old business folks to promote their business online, how would you explain what Digital Marketing is to them? This post would guide you to doing that.
Explaining Digital Marketing to Your Grandparents
Yes, I understand that Digital Marketing is more than Google, SEO, and Social Media; however, they are the parts of Digital Marketing I suggest you should explain to your grandparents.
The three (I mean Google, SEO, and Social Media) are popular among non-Digital Marketing inclined people; so explaining Digital Marketing around them to your grandparents and non-Digital Marketing inclined people would make them quickly understand you.
Explaining Search Engine (Google)
Because almost everybody has heard of Google and because Google is a big thing in SEO and Digital Marketing, that's where you should start your explanation. Ask your grandparents if they ever use Google to search for things online; if they do, you have an easy job.
If they don't, then you would need to explain what Google is. Explain Google as an online database that stores all the contents – texts, images, and videos – on the Internet, and rank them based on importance and relevance.
Tell them that when someone goes to Google's website and searches for a particular stuff like "when did Nigeria become a Republic," Google would look at its database and list out results based on what it believes to be relevant to when Nigeria became a Republic.
Explaining SEO
After you might have explained Google – or if your grandparents are already familiar with Google – then you can go ahead and explain SEO. You would start by saying SEO is an acronym for Search Engine Optimisation; you would say SEO is all the efforts a content creator put in place (on her website or blog) to ensure Google rank her website or blog high on its listings.
These efforts include writing good posts and complementing them with good images and videos as recommended by Google. And that by doing this, the blog or website would rank high on Google listings and a lot of people would click on it, visit it, and buy from it – if the blog or website sells something.
You can go a little deep in your explanation by adding that SEO efforts also include making website load very fast and responsive to different devices, doing a research of what people are looking for on Google, and securing the website or blog from hackers.
Explaining Social Media
Just as Google is very popular and your grandparents might have heard of it, Facebook is very popular, too, and they are likely to have heard of it. So in explaining social media, you have to start with Facebook. You would explain to them that Facebook is more than just chatting friends, that businesses are also using it to promote their goods and services.
And that businesses create an official Facebook page and use it to talk about their goods and services, and that the customers interested usually contact the businesses on the social network for transactions.
After explaining Facebook, you can then add other popular social networks, like Twitter, Instagram, and Google Plus, and tell them businesses also use them to promote their goods and services.
Conclusion
Digital marketing is a new marketing trend that isn't popular as Traditional Marketing, to our grandparents. But by talking about Google, SEO, and social media, you may likely get their attention and make them understand the basics of Digital Marketing.
Join our list
Subscribe to our mailing list and get interesting stuff and updates to your email inbox.